Calamar Foundation Presents Inaugural Donation
Mon, Aug 20th 2018 04:00 pm, by sczyrny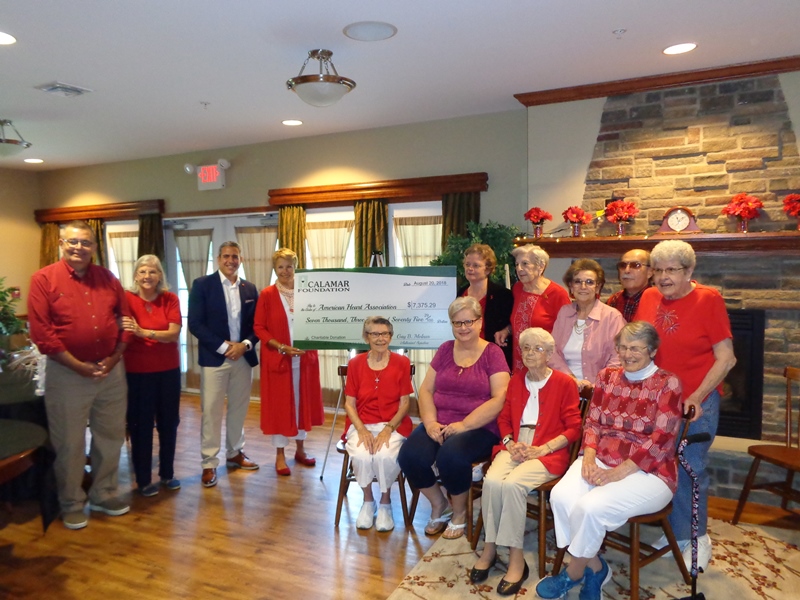 CALAMAR FOUNDATION PRESENTS INAUGURAL DONATION

(August 20, 2018, Wheatfield, NY) Calamar, a New York based developer and contractor, created the Calamar Foundation in 2017 to give back to our communities and is proud to be presenting the first donation checks. Presentations will take place each year in the third week of August, which coincides with "National Senior Citizens Day" (August 21st) that was established in 1988 by President Ronald Reagan. Kenneth M. Franasiak, Chairman and C.E.O. of Calamar, is pleased to announce the Calamar Foundation has raised over Eleven Thousand dollars through the direct donations of the residents of Calamar 55+ independent living communities in the Northeast & Midwest. Calamar also proudly matches that donation, dollar for dollar, resulting in a grand total of $22,125 dollars. This amount is being split equally among the three charitable organizations the Foundation selected when it was formed.

Calamar Foundation President Gay Molnar said, "Calamar takes pride in giving back and investing in our communities where we work and live. This has always been and will continue to be, an important part of Calamar's core ideology and values since our founding in 1990. Calamar's roots have long included philanthropic interests throughout our local, regional and national scene. Creating this foundation came at a time when Calamar continues to grow across the U.S.", Molnar said. The focus of the Calamar Foundation is to bring awareness and resources to specific organizations whose missions align with those of our organization, tenants & stakeholders.

The checks will be presented by Calamar Foundation President Gay Molnar in Wheatfield, NY at Forestview Active Living to the American Heart Association, in Bedford, NH at Maple Ridge Estates to the American Cancer Society and in Olathe, KS at The Grand Estates on Greenwood to the Alzheimer's Association. Representatives from each charitable organization will be on hand to accept the donations from the Calamar Foundation. The communities will also be hosting a party to celebrate all the residents that make up our communities and have so generously donated to the Calamar Foundation.

###

About Calamar
Calamar is a full-service real estate firm comprised of construction, development, property & asset management and finance & investment divisions for commercial and large-scale residential properties in the Northeast & Midwest regions. Calamar is headquartered in Wheatfield, NY. For more information, contact Kathy Griffiths at 716.693.0006, ext. 211 or kgriffiths@calamar.com.