Make Downsizing Your Project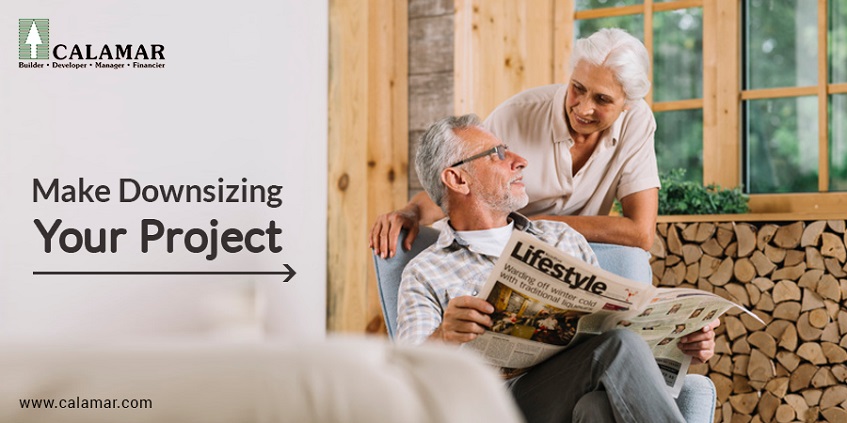 Moving into a new space presents one with an opportunity to meet new people, to personalize one's space, and to even reinvent oneself. After all, one's surroundings does play a huge part in shaping one's mood so it is important to make your space comfortable for you. So what do you have to do? Make it your project.
During retirement, you have all this free time at your hands so why not use that time towards making your downsizing process your project? If you are the creative type, you can test if you can have a side gig as an interior designer. Figure out what mood your new home should look like. Should it be relaxing? If so, brighten up the space! Paint the walls in cream or white or add more lighting. Consider using energy-efficient incandescent lights too as fluorescent lights can get harsh on the eyes. If want to add some mood lighting, have multiple lamps around your space. What is the ambiance like? If you like it to look warmer, use some mustard yellow but if you prefer to make it have a cooler vibe, splash some teal on some spots. According to interior designers, colors can affect your mood, so here are some of the most used room colors:
Blue can help you feel calm, relaxed, and be serene. Pick the light, warm hue of blue if you'd like to achieve this mood.

Yellow is an energizing color that brings feelings of liveliness.

White will help make your room feel bigger and more spacious and exudes the feeling of cleanliness.

Green helps reduce anxiety and gives off the outdoorsy feel.
In the process of asking yourself these questions, keep in mind that what your space will look like at the end of the project will ultimately reflect your personality.
Part of this downsizing project is simplifying your furniture. What usually are most loved possessions are the old television that the kids used to tune in when they were younger, the tattered recliner that is way past its prime, and the chinaware displayed on the bulky stained oak cabinet that usually gets the oohs and ahhs from other housewives when they go for afternoon tea. While they are great for those with a large space and a huge family, they're not so great for those who live on their own or with a partner. Having a larger space means more time spent maintaining it and cleaning it and less time for leisure. It would be a better idea to either discard half-broken mugs and unnecessary clutter or keep the essentials. The process of clearing out the inessentials can also be therapeutic too, so try it sometime and see it yourself.
While the process itself is relaxing, maybe the best reward is seeing your newly organized and clutter-free rooms. That is why is also a great idea to use multipurpose furniture, whose main purpose is to not only be used as furniture but also as storage. I know many people who are always cold and they have lots of throw blankets to keep them warm but don't want their pets to wreck their blankets. It sometimes gets annoying to find where to keep these things from pets, but if you have ottomans that come with storage, this wouldn't be much of a hassle. Looking for another reason that makes these kinds of furniture so great? Imagine having friends of family over and having only a sofa and an armchair. How do you fit them all? Instead of having guests sitting on the carpet, you can pull out that ottoman from your bedroom that stores your pillows. Then if they decide to sleep over? Not a problem! You can just use up that hideaway bed of your sofa. Having multipurpose furniture is almost like being able to expand and make your space bigger at your own will.
However, if you are not a handy yourself and would just like to downsize in snap, make it your project to look for the senior community that you are comfortable with. If you are in Kansas City, KS, there are multitudes of independent senior apartments like The Grand Estates On Greenwood. Kansas City, MO would also have good retirement communities. However if you are further east, there are also senior apartments for you like the Maple Ridge Estates At Bedford in New Hampshire, NH.