Preparing For The Summer Heat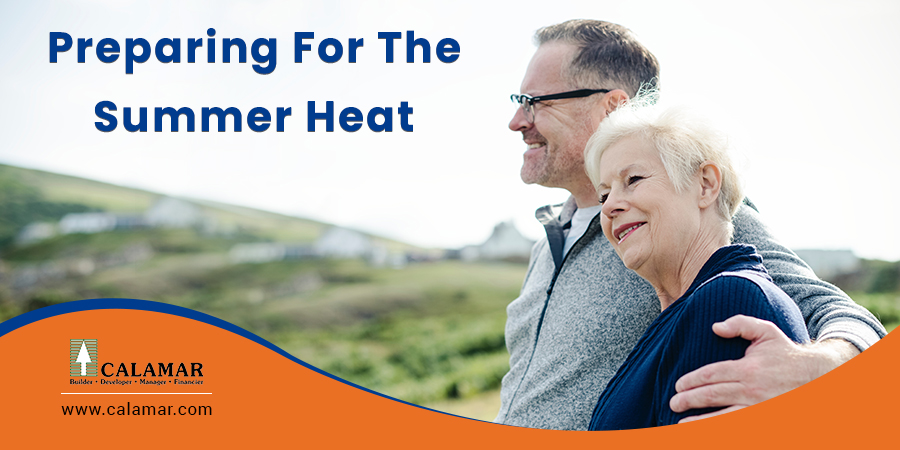 With spring ending soon, temperatures will start going up and everyone will start heading out. Before taking an entire day off to explore and spend your days outside, make sure to know your limits. Heat exhaustion and heat stroke are two things seniors need to watch out for as they try to enjoy the summer heat.
Compared to other age groups, seniors are hit harder by the heat. In 10 years from 1999 to 2009, approximately 40 percent of heat-related deaths were adults over 65 years old. As one ages, so does the body's ability to regulate temperatures decline, therefore, their natural cooling processes also become more difficult. Seniors do not sweat as much and fat storage also changes, which makes heat regulation more complicated.
Those exhibiting the characteristics below should be extra cautious too, as they are more prone than the average person in getting any heat-related conditions.
Heart and kidney disease

People on salt-restricted diet

People who tend to overdress

Lack of access to air-conditioning or airflow

People living in hot areas, especially if you're situated in one of the senior apartments in Kansas City, KS

Dehydrated people
Keeping an eye on typical symptoms might also be useful, before it gets worse. Knowing them may be the difference between death and life for some, as heat stroke can set in within 10-15 minutes. Initial symptoms include tiredness, weakness, dizziness, muscle cramps, headache, and excessive sweating. These can quickly progress to nausea, vomiting, and fainting.
Now, how does one distinguish heat exhaustion from heat stroke? It's trickier especially they have overlapping symptoms. To check for heat exhaustion, one can do the following:
Ask if the patient is having a headache or stomach ache

Notice if the patient mentions anything about having a blurrier than average vision

Check if the patient seems to be more ashen than the usual

Have their blood pressure checked

Notice if they're more sluggish than usual

Check for rapid heartbeat

Check for increased body temperature
For heat stroke, a more serious condition, similar symptoms as above applies and more:
Keep an eye on patient and notice unusual reactions, which may be caused by hallucinations

Check for unusual behaviours like agitation, confusion, or disorientation

See if they have hot dry skin

Fainting

Loss of consciousness
If ever you come across any of these symptoms, found a cooler or shaded area and make the patient lie down. If possible, try to put a fan closeby, or offer cold fluids to lower their body temperature.
These symptoms can definitely be avoided if seniors are properly hydrated and receiving the nutrients their bodies need.
Include snacks with high water content in their diet. Try to even offer it in to-go portions so they are more inclined to bring it with them to walks and errands. These fruits and vegetables may include but not limited to green peppers, carrots, cucumbers, celery, grapes, cantaloupe, honey dew, strawberries, pineapple, and watermelon. Retirement Communities in Ankeny, IA such as that in Calamar should have grocery stores nearby where seniors can shop for healthy fruits and snacks.

If they are not in the mood for a meal, offer smoothies instead.

Encourage them to drink more water, or if they prefer, try offering them flavored drinks like tea or juice. However, try to reduce the caffeinated drinks

Prepare some loose fitting clothes for them for better ventilation

While being outside is good, make sure to limit exposure between 10am to 3pm when the sun is at its peak
While being in one of the independent senior apartments in Des Moines means that one is still independent, one must still be cautious of the possibility of the seniors experiencing unexpected health concerns, especially from heat in the summertime. As they always say, prevention is better than cure.