Tuscarora Nation House Grand Opening
Thu, Nov 3rd 2011 01:00 pm, by kgriffiths
Showing off rich heritage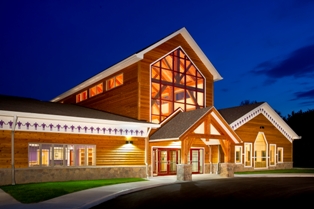 Calamar Construction, URS Corporation and Tuscarora Indian Nation are delighted to announce the completion of The Tuscarora Indian Nation House in Lewiston and are celebrating today with Grand Opening ceremonies, day long programs and activities.
Completion of the new 38,000 SF building for the Tuscarora Indian Nation marks a significant milestone that was five years in the making and represents the largest, one-of-a kind building of its size on a Tuscarora nation since 1921. "There is nothing like it in Western New York", Tuscarora Nation building liaison Neil Patterson Sr. said. "It's an absolute showcase and a real feat of engineering. There is an elaborate water cleaning system for the well water that will service not only the medical center but the whole building."
Calamar began construction in July 2010 for the multi-use Nation House. The building has many uses including its primary use as a medical center for the Nation. That will facilitate fields in dentistry, general healthcare and community health workers, all under the direction of Niagara Falls Memorial Medical Center.
The building also houses a spacious community center which accommodates a resource center with a library, computer stations and education resources where children can come for assistance. Senior citizens are an integral part of the community so a senior center component is incorporated into the building so they will have a place to congregate and hold their meetings.
The Tuscarora Environment Group office is also an integral part of the building where Nation offices are able to meet. The leaders of the reservations environment group were responsible for all the legwork that was necessary to receive income from the reservoir relicensing of funds from the New York State Power Authority.
The building is magnificent with wood frame structure and thick timber beams throughout. An impressive entrance welcomes you and beckons you to explore the proud heritage of the Tuscarora Nation - a member of the Iroquois Nations. Symbolism abounds with the turtle, depicting the Mother Earth or Turtle Island. The windows, flooring, reception stations and many other elements throughout the building embrace Wampum Belts - a Tuscarora Indian symbol of beads that area authentic to the Tuscarora tribe that tell a story. Cohoques shells from the Atlantic Ocean, an actual tree and life like painted figures are featured in an elaborate and unique water pot sculpture and mural designed and created by local artist Blair Rusin. The magnificent artwork is 3D and engages your imagination to step back in time. Tuscarora emblems and motifs are evident in the flooring and throughout. Additional local artists work is forthcoming.
Calamar and URS Corporation are extremely proud of this extraordinary building. Calamar Construction donated the 3D artist mural to the Tuscarora Nation while URS Engineering provided the plants and manual labor installing the interior gardens. "This has been such a tremendous project to be involved with" said Tom Weeks, Vice President of Construction for Calamar. "We are grateful to have had the opportunity to work on such a signature project that embodies such a rich heritage into the structure." Joe Crestak from URS agrees. "This was a very good project and went very well. Calamar was very responsive and cooperative and we have a great appreciation for all who were involved".
Tuscarora Nation building liaison Neil Patterson Sr. echoed the sentiments commenting "This building is really something. You just have to see it. Working with Calamar and URS has been a real pleasure. Our relationship has evolved from building partners into friendship. This building is something the Nation has never had before and it's for ALL the Tuscarora people."
The Grand Opening celebration begins at 1:00 and will continue on through the day ending at about 10:00 p.m. A formal ribbon cutting will start the day with tours and activities to continue all day. Traditional cuisine will include bison sliders, corn soup; corn bread, and fry bread among other tastings. Music consists of traditional Iroquois band melodies and a Cayuga Indian flute player. Building tours will be offered all day.