Calamar Wins American Concrete Institute Award
Mon, Jul 12th 2010 08:00 am, by kgriffiths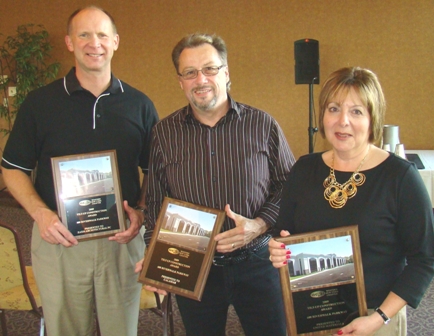 The American Concrete Institute (A.C.I.) Western New York Chapter, recently held its annual awards banquet at Terry Hills Golf Course in Batavia where Calamar was selected as the winner in the tilt-up category for their submission of 600 Riverwalk Parkway in Tonawanda, NY
Calamar was selected by TM Montante Development to construct 600 Riverwalk in their new Riverview Commerce Park in Tonawanda, NY. Calamar constructed the entire shell for the 103,000 SF multi-tenant building utilizing their expertise in the site cast concrete TILT-UP method. In this type of construction, the floor slab for the entire building is placed first and then used as the casting bed for all wall panels to be formed and poured. Once curing has been attained, the walls are then "tilted" into place. All work is done completely on-site using locally produced materials. TM Montante selected Calamar and the site-cast tilt-up method for their project due to its competitive costs with outstanding value and appearance, the efficiencies the tilt-up product produces through the thermal-mass wall system and their disappointed with pre-cast construction in the past.
"This award exemplifies our commitment to excellence for our customers and attests to the quality and benefits derived from the site-cast TILT-UP system that enables Calamar to truly add value to our clients", said Calamar Senior Project Manager Brad Griffiths. "We are honored to have been selected by our peers for recognizing the value, aesthetics and use of concrete through tilt-up concrete construction".
Calamar has been utilizing the site-cast concrete tilt-up method since 1998 in numerous applications from medical wellness, retail, office, manufacturing and multi-tenant facilities. In addition to site cast concrete tilt-up, Calamar provides design-build services and general construction for pre-engineered metal and conventional construction methods as well as renovations and additions.