Calamar Breaks Ground On Warsaw, NY Senior Community- Eleventh In Northeast Region
Fri, Jun 23rd 2017 03:00 pm, by sczyrny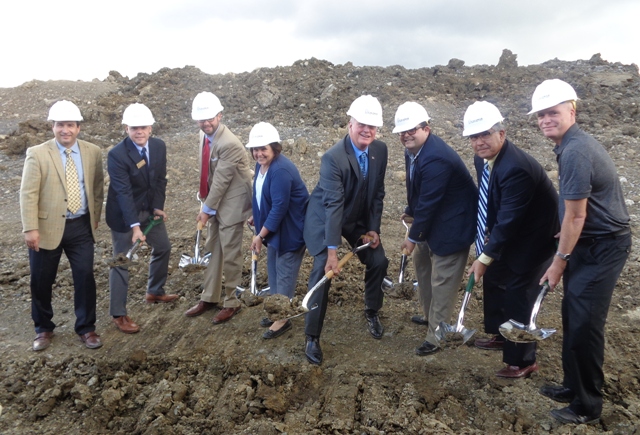 CALAMAR BREAKS GROUND ON WARSAW, NY SENIOR COMMUNITY - ELEVENTH IN NORTHEAST REGION

(June 23, 2017) Calamar, a New York based full service real estate organization, celebrated on Tuesday, June 20th at 11:30 a.m. with a ground breaking ceremony for their eleventh 55+ independent living community in the Northeast region. The Town of Warsaw, NY welcomed Grandview Terrace to their community. Local dignitaries as well as senior management from Calamar gathered for a ground breaking ceremony at the site of the new 120-unit senior housing community at 11:30 a.m.. Grandview Terrace is an independent living apartment community with no income restrictions for those age 55+ young. Located at 2417 North Main Street, the community is a 3-story building that will have both 1 & 2 bedroom apartments and provide a truly economical solution to senior living.

"We've been extremely successful with this market in the Buffalo, New York region as well as the Midwest, where there is presently an extensive waiting list at existing facilities for affordable senior housing", said Calamar President Kenneth M. Franasiak. "We truly believe in creating affordable and competitive housing options for the senior community where currently they are faced with either no appropriate housing choices, high rent options or the extensive wait list. Grandview Terrace will mark our eleventh senior community in the Northeast in the past 9 years".
"Grandview Terrace will cater to middle class income households. Our model will enable our residents to enjoy comfortable living at competitive and economical pricing facilitating seniors to preserve their assets for their individual long term goals", said Northeast Regional Director Michael Morris. "The economic issues of today have greatly impacted seniors and we are excited to continue to forge forward and bring this affordable housing model to Warsaw.

Both one and two bedroom, pet friendly apartments are available with pre-leasing rents ranging from $849-1185 per month. Grandview Terrace will offer several different layouts for both the 1 and 2 bedroom apartments with many offering 1.5 bath options. All apartments will be furnished with a washer and dryer as well as all major kitchen appliances. The property will feature a community room with kitchen for events and entertaining that is also available to residents free of charge for private events; a well-appointed lounge/library with fireplace for informal living outside the apartment home; a community laundry, a fitness center for physical well being and much more for residents to enjoy. Garages are available on a first-come, first serve basis at an additional cost.

"Grandview Terrace will definitely fill the void and provide a much needed alternative to the expensive, amenity driven options that are out there", said Morris. "Our communities flourish with our residents conveying a true sense of belonging and new found friendships that are formed. A full calendar of events and activities are available that allow our residents to engage with one another and enjoy the full benefits of living in an environment with their peers. Our SELF (Seniors Empowered to Live Life to the Fullest) is our exclusive program designed to empower seniors in body, mind and spirit".

Grandview Terrace represents a $14.2 million dollar investment and is expected to be completed by late summer 2018. There are no entry fees, buy-ins or surcharges. For more information, contact Mary Beth at 716-946-6444.

About Calamar
Calamar is a full-service real estate firm comprised of construction, development, property management and finance & investment divisions for commercial and large-scale residential properties in the Northeast & Midwest regions. Calamar is headquartered in Wheatfield, NY and has offices in Omaha, Nebraska, Boston, MA., Niagara-on-the-Lake, Ontario & Toronto,Ontario. For more information, contact Kathy Griffiths at 716.693.0006, ext. 211 or
kgriffiths@calamar.com
.