Calamar Completes Fichte, Endl, & Elmer Eyecare New Medical & Ambulatory Surgical Center
Wed, Aug 17th 2016 11:00 am, by sczyrny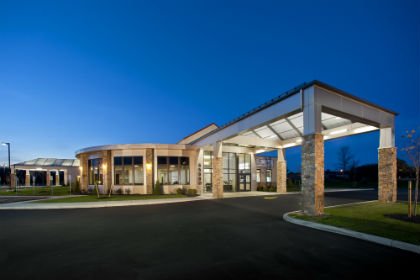 (Town of Niagara) Calamar, the largest full service real estate organization in Niagara County, announced the grand opening of the new 22,000 S.F. medical facility owned by Fichte, Endl & Elmer Eyecare on at 6500 Porter Road in the Town of Niagara where a ribbon cutting took place. Calamar Construction was awarded as the General Contractor for the expansive project.
A ribbon cutting ceremony with state and local government officials commemorated the official opening. "This is a very important project for Niagara County", said Calamar Chairman & C.E.O. Kenneth M. Franasiak. "Fichte, Endl & Elmer are well known, highly respected physicians who are now embarking on a world-class, state-of-the-art, medical facility that will serve all of Western New York and Southern Ontario with the very best in eye care. The opportunity to also bring in other types of doctors will make this a medical destination. Calamar Construction is very pleased to have been chosen to build this state-of-the-art medical facility".
Fichte, Endl & Elmer Eyecare is a leader in comprehensive eye care in the Buffalo-Niagara region providing all optical and eye care services including general optometry. laser vision correction, corneal surgeries, laser cataract procedures and much more. The new facility sits on 19-acres and consists of 12,000 S.F. of office space and exam rooms with the remaining 10,000 S.F. being dedicated to an ambulatory surgery center. It is intended for surgeries provided by Fichte, Endl & Elmer Eyecare as well as a world class center for other various eye surgeons in Western New York to use. In addition, the 19-acre lot has two outparcels that are available for other medical specialties to establish. Dr. Elmer said the goal is to attract all types of doctors to the new facility. The development, Niagara Medical & Ambulatory Surgical Center (MAP for short) is accepting patients.
About Calamar
Calamar is a full-service real estate firm comprised of construction, development, management and investment divisions for commercial and large-scale residential properties. Calamar is headquartered in Western New York with offices and investments throughout North America. For more information, contact Kathy Griffiths at 716.693.0006, ext. 11 or kgriffiths@calamar.com.