Calamar Construction Commences Work On Depaul Wheatfield Commons Assisted Living
Fri, Jul 22nd 2016 12:00 pm, by sczyrny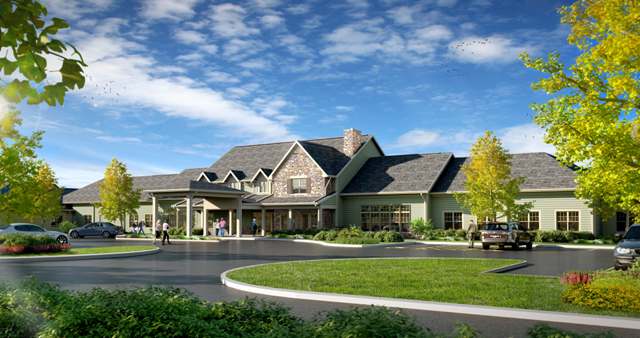 CALAMAR CONSTRUCTION COMMENCES WORK ON
DEPAUL WHEATFIELD COMMONS ASSISTED LIVING
(July 22, 2016 Wheatfield, NY) Calamar, a full service real estate organization comprised of construction, development, property management, asset management and finance & investment divisions is pleased to announce that Calamar Construction Management has begun construction on a new 114-bed assisted living community that will be owned and operated by DePaul. The project, Wheatfield Commons, is a 55,000 S.F. country style community, located in The Woodlands Residential Village in Wheatfield, NY.
Wheatfield Commons will cater to assisted living residents and memory care residents, offering fully furnished private and semi-private accommodations. Calamar President Kenneth Franasiak said, "We are very pleased to have been given the opportunity to build for DePaul's Wheatfield Commons assisted living community and that they have selected The Woodlands Residential Village for this important development. We've been working on this project for a very long time and it's wonderful to see it come to fruition", said Calamar Chairman & CEO Kenneth M. Franasiak. "DePaul Senior Living Communities provide the comforts of home and a commitment to enhancing quality of life, which aligns perfectly with our own organizational strategy to improve and invest in our senior communities. By expanding their services into Wheatfield, the community will have a excellent option for placing their loved ones in a loving, caring home".
"When Calamar approached DePaul about providing assisted living and memory care services on the campus of The Woodlands Senior Village, which provides independent options, we immediately recognized this as an opportunity to partner with a quality organization and meet community needs," said Mark H. Fuller, President, DePaul. "We look forward to playing a vital role in the lives of seniors and their families in Niagara County at Wheatfield Commons, a DePaul Senior Living Community, and providing the very highest quality services to those who will be in our care."
Construction is well underway and the community is scheduled for completion in the Fall of 2017. For more information on Wheatfield Commons, visit www.depaul.org or call 585-426-8000.
About Calamar
Calamar is a full-service real estate firm comprised of construction, development, property & asset management and finance & investment divisions for commercial and large-scale residential properties in the Northeast & Midwest regions. Calamar is headquartered in Wheatfield, NY and has offices in Omaha, Nebraska, North Andover, MA. and Niagara-on-the-Lake & Toronto, Ontario. For more information, contact Kathy Griffiths at 716.693.0006, ext. 211 or kgriffiths@calamar.com