Calamar Opens Sixth Upstate New York Senior Community
Thu, Apr 14th 2016 11:45 am, by sczyrny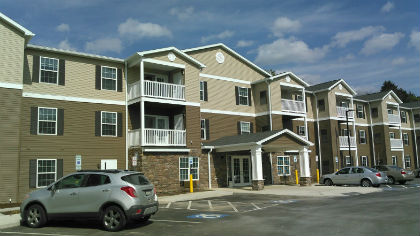 (Lakewood, NY, April 14, 2016) NYS Assemblyman Andrew Goodell, Chautauqua County Executive Vince Horrigan, along with esteemed village, town and local officials, joined Calamar today at 4:00 p.m. to celebrate with a ribbon cutting ceremony to commemorate the completion and grand opening of Fairway Pointe Senior Village. Calamar put out the welcome mat and opened the doors to residents in a new three-story, 116-unit independent living senior apartment community for those 55+ at 2123 Southwestern Drive, Lakewood, NY. Nestled in the rolling hills of the village of Lakewood, Fairway Pointe represents an affordable senior living option and opportunities providing active, independent living without inflated rent structures that are often associated with retirement communities.
Fairway Pointe Senior Village is an entirely smoke-free, pet friendly community offering one and two bedroom apartments with rents ranging from $850 - 1210/per month that include heat and water. All apartments are furnished with a full size stackable washer/dryer.
"The positive response to Fairway Pointe has been overwhelming", said Tina Vinocur, Northeast Regional Manager for Calamar. "The interest in this property has been very steady and speaks to the need in this area for this type of community. We welcomed 32 new residents that moved in on May 1, 2016. Now that the community is operating, interest is peaked even more!
Fairway Pointe Senior Village will definitely fill the void in the senior apartment industry by providing a much needed alternative to the expensive, amenity driven options that are available.
"Fairway Pointe Senior Village was made possible through the cooperation of various government and town municipalities who all recognized the tremendous need for this project and moved forward to provide quality, affordable senior housing to their residents.", said Calamar Chairman & C.E.O. Kenneth M. Franasiak.
Fairway Pointe represents a $12 million dollar investment and is the sixth senior apartment community completed by Calamar in the Upstate New York region and the 14th overall in their portfolio. Other properties are located in Nebraska, Kansas, Missouri, and New Hampshire. Construction is currently underway on five other senior properties and many more in development throughout the Midwest and Northeast.
For more information on Fairway Pointe, contact Amanda Chase at 716-489-3601.
About Calamar
Calamar is a full-service real estate firm comprised of construction, development, property management and finance & investment divisions for commercial and large-scale residential properties in the Northeast & Midwest regions. Calamar is headquartered in Wheatfield, NY and has offices in Omaha, NE, North Andover, MA and Niagara-on-the-Lake & Toronto, Ontario. For more information, contact Kathy Griffiths at 716.693.0006, ext. 211 or kgriffiths@calamar.com.