Auburn Grove Grand Opening - Opens to record breaking capacity
Thu, Oct 30th 2014 04:00 pm, by kgriffiths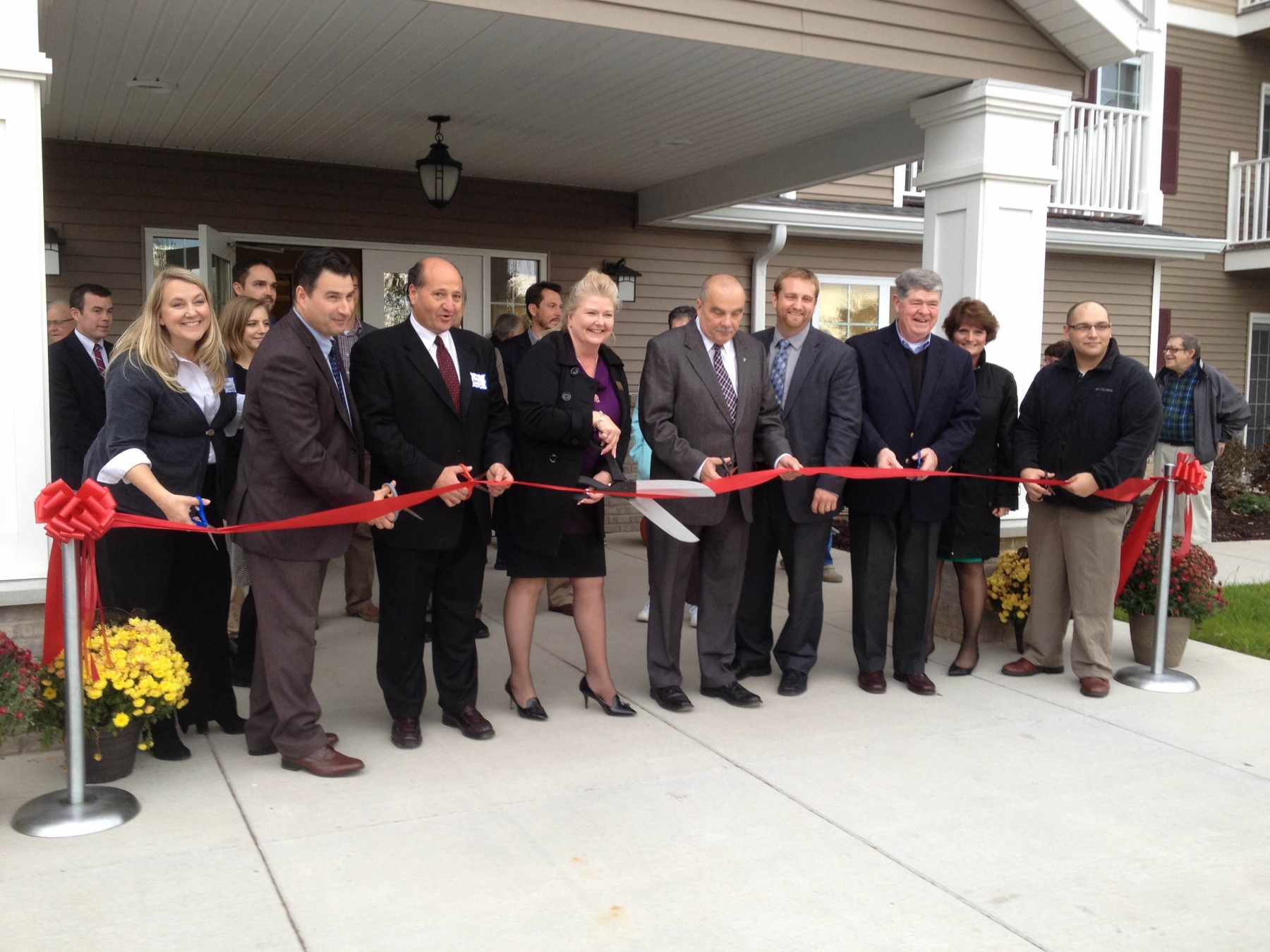 Calamar, a Wheatfield, NY full service real estate organization with divisions in construction, development, property management, finance and investment celebrated on Wednesday, October 29th at 4:00 p.m. with local officials including Honorable Mayor Michael Quill, Legislator Ryan Foley and local government and town officials to commemorate the completion and grand opening of The Village at Auburn Grove. An official ribbon cutting took place at 4:30 p.m. Calamar put out the welcome mat and opened the doors to residents in a new three-story, 110-unit independent living senior apartment community located at 138 Standart Avenue. The Village of Auburn Grove is an independent living apartment complex with no income restrictions for those 55+ young and represents an affordable senior housing option and opportunities providing autonomous living without inflated rent structures that are often associated with retirement communities.
The Village at Auburn Grove is an entirely smoke-free, pet friendly community offering one and two bedroom apartments with rents ranging from $835-1070 per month that include heat, basic cable, and water. All units are equipped with kitchen appliances and in-suite washer and dryer as well as common laundry facilities, personal patios, and central air conditioning.
"The positive response to The Village at Auburn Grove has been overwhelming", said Tina Vinocur, Director of Senior Housing & Lifestyles for Calamar. "The rapid rent up of this property has been astounding and speaks volumes to the need in this area. Our pre-leasing efforts exceeded our expectations and we welcomed more than 150 new residents/families that moved in on October 1st occupying 103 of the 110-units. We have very few apartments remaining and anticipate the building being stabilized before the end of November. The Village at Auburn Grove will definitely fill the void in the senior apartment industry by providing a much needed alternative to the expensive, amenitydriven options that are available. We strive to make our communities engaging, fun and active with a close knit group of friends. Although the "building" portion is complete we will continue to build relationships."
"The Village at Auburn Grove was made possible through the significant and valuable cooperation and assistance of the town of Auburn, the Auburn I.D.A. and the Cayuga County Chamber of commerce who all recognized the tremendous need for this project and moved forward to provide quality, affordable senior housing to their residents.", said Jocelyn Bos, Director of Senior Services.
The Village at Auburn Grove represents a $10 million dollar investment by Calamar who has completed nine senior communities over the last 5 years with locations throughout New York state, the Mid-West and soon to include New England. For more information on The Village at Auburn Grove, contact Dawn Schulz at 315-329-5561.