Calamar Breaks Ground in Chautauqua
Wed, Oct 22nd 2014 09:00 am, by kgriffiths
Fairway Pointe Senior Village Underway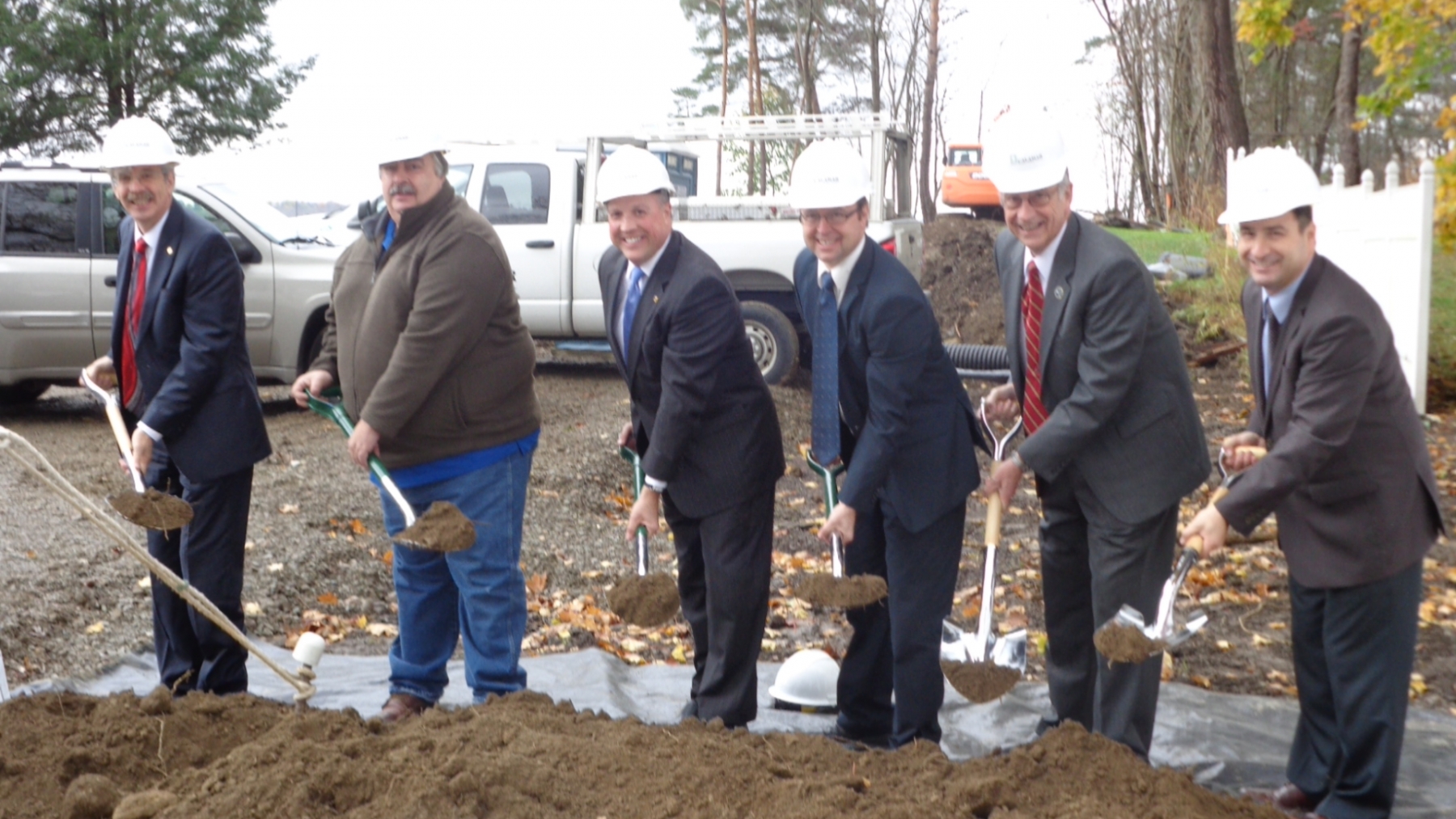 NYS Assemblyman Andrew Goodell & County Executive Vince Horrigan
Join Calamar To Celebrate Ground Breaking For
Busti Senior Community
(Busti, NY, October 17, 2014) Calamar, a full service real estate organization with divisions in construction, development, property management and finance & investment celebrated with a ground breaking ceremony on Tuesday, October 21, 2014 at 11:00 a.m. to signify the start of construction on a new senior community located at 2123 Southwestern Drive, Lakewood, New York. NYS Assemblyman Andrew Goodell and Chautauqua County Executive Vince Horrigan will join Town of Busti Supervisor Jesse Robbins and other distinguished local officials for the ceremonial "shovel dig."
Fairway Pointe Senior Village will be an independent living, 3-story senior apartment community comprised of one hundred sixteen (116) one and two bedroom units for those 55+ young. Centrally located, Fairway Pointe Senior Village is poised to service the needs of seniors in the Busti region as well as the surrounding neighborhoods of Lakewood and Jamestown.
The apartments will feature Calamar's "classic" model providing spaciously sized living units within a very affordable rent structure, combining many amenities into the rent fee. "Our philosophy is to provide truly affordable rents for the middle income bracket. There are many programs available for those with income restrictions as well as the high-end, expensive retirement communities. We're filling that void in between and providing a much needed and sought after product", said Calamar Director of Leasing & Lifestyle, Tina Vinocur. Fairway Pointe Senior Village boasts a much sought after feature in its two bedroom apartments with the option of 1 1/2 baths in many of the apartments. "In our on-going quest to better each community we build, we have incorporated this enhanced bath model based on the request of our senior residents. It's an extremely popular amenity". Vinocur said.
"The apartments we build are indeed affordable, yet another priceless amenity they offer residents is a real sense of belonging, a community where friendships flourish. It's not just about the "bricks and mortar" of a building. It's an enhanced lifestyle with programs and activities managed by the residents with the help of our managers, engaging and
developing new relationships. We have a saying at our communities that really rings true, "Come as strangers, live as friends". It's what we believe in and strive for with each community we build". Vinocur said.
Fairway Pointe Senior Village is an independent living community. One of the ways we help our residents stay independent is through our SELF (Seniors Empowered to Live Life to the Fullest) program where residents can choose and easily access a multitude of goods and services on an "al a carte" basis creating much greater cost effectiveness. Calamar is partnering with select agencies and vendors to provide services to our community as well as reduced rates on a variety of products.
"This program was developed as an added feature to empower our residents to select only the specific services they may require, as they need them. This differs greatly from other senior communities that consolidate all the services they offer within the residents rent plan, whether those services are utilized or not", Vinocur said. "These services may include anything from transportation options, cleaning, meal supplement programs to home health services and much more. This enables people to choose the services they need while helping alleviate high rents."
Fairway Pointe represents a $12 Million dollar investment and is the ninth senior housing project Calamar has embarked on over the last 5 years. Calamar's portfolio of senior housing development is comprised of properties in various locations throughout New York state, the Mid-West and soon to include New England. Calamar has been developing senior housing for over 20 years and has built over 2,000 plus units.
"Clearly, there is a tremendous need for more senior housing as our population ages," said Calamar Director of Senior Services, Jocelyn Bos. "The demand is overwhelming and we feel our product fills a niche that was currently untapped in Busti to bring high quality, reasonably priced senior options to the marketplace". "This project would not have been possible without the cooperation and assistance of the Town of Busti, the Chautauqua County Industrial Development Agency and the Chautauqua County
Planning & Zoning Boards, which recognized the value this project will generate, allowing us to create truly affordable housing for seniors". Bos said. "We are grateful for their support and thrilled for the residents of Busti".
Residents of Fairway Pointe can recognize significant savings by the way Calamar incorporates many of the everyday services into the rents while keeping them affordable. Some amenities included in the rent are heat, hot water, sewer and trash services, kitchen appliances, including dishwashers and an in-suite washer and dryer. Fairway Pointe features a large community room that residents can use for events or private parties at no additional cost, a lounge with a fireplace, secured access and is 100% smoke-free. Pets are welcome.Construction is expected to be complete by Fall 2015. For more information on pre-leasing, contact Robin Gaige at 855-357-7755.