EMS & Calamar Celebrate Grand Opening
Fri, Sep 12th 2014 11:00 am, by kgriffiths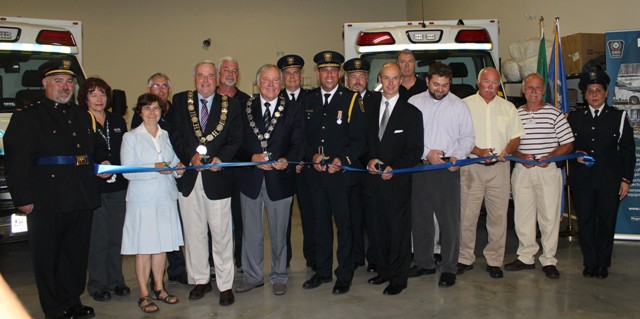 Calamar executives and regional dignitaries from Niagara-on-the-Lake and the Niagara Region celebrated with a ribbon cutting ceremony to launch the grand opening of Niagara Region's new Emergency Medical Services' (Niagara EMS) Fleet Operations and Logistical Services Centre.
The new facility, located in The Compass Centre is near the Glendale gateway and interchange at the QEW. This new facility will house the fleet centre, supplies and quartermaster store. The Compass Centre is a prestige business park centrally located within the Niagara Region, developed, built and managed by Calamar.
"On behalf of the Town of Niagara-on-the-Lake Town Council, our thanks to Regional Chair Burroughs, EMS Kevin Smith, Calamar CEO Ken Franasiak and all staff for your hard work on such a great facility. This is an ideal location for this type of service and one that will better serve all residents of Niagara Region. Congratulations on a job well done.", said Lord Mayor David Eke.
"This new EMS facility is important for our residents and those relying on the vital services provided by EMS. Regional Council appreciates and congratulates everyone who contributed to making this renovated facility a reality." said Regional Chair, Gary Burroughs.
Calamar Chairman & C.E.O, Kenneth Franasiak commented, "We are absolutely thrilled that the Niagara Region selected The Compass Centre for this important project. Given the ease of access via the QEW and other major arterials, and its proximity to high-density ambulance usage, this location makes complete sense for a facility of this kind." "The Glendale region is experiencing a massive building boom with over $1.5 billion in new construction. This area is growing predominately because of the leadership and vision of Lord Mayor Dave Eke and Regional Chair Gary Burroughs" Franasiak added.
The facility is being used for secure, indoor storage for ambulances; new decontamination services; storage and preventative maintenance for equipment and operation logistics.