DRAFTCON CALAMAR PROJECT WINS FOURTH AWARD
Tue, Oct 2nd 2007 12:00 am, by system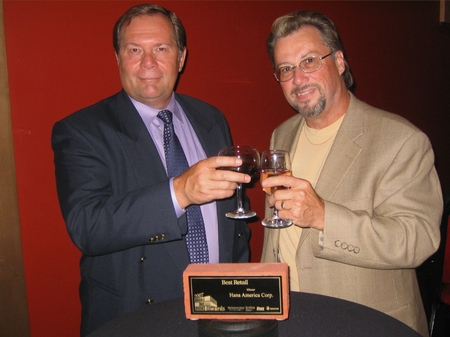 Calamar Canada, a full service real estate organization comprised of construction, development and management divisions that specializes in site-cast concrete tilt-up construction, recently won their FOURTH award for the same project with the selection of their Hana America Corporation building.
The Hana America Corporation project was honoured with the "Best Retail" award in the U.S. based award competition of Brick by Brick, sponsored by Business First of Buffalo, a prominent business newspaper. The Brick by Brick Awards was formed four years ago to recognize the best of the best in real estate, construction and development. Competition was open to all of Western New York and Southern Ontario in nine various categories and selected by an independent panel of judges. The Hana America project was voted as a finalist and then ultimately announced as the winner at a recent awards reception held in Buffalo, NY. that brings together the most successful architects, engineers, developers and contractors in the Buffalo Niagara region.
Hana America Corporation is a 2-storey building located in Niagara Falls, Ontario totaling nearly 9,500 S.F., comprised of a restaurant, a retail store and a tourism office. The concrete tilt-up structure features an integral insulation system, providing both durability and energy efficiency. Architectural elements complement the building owner's Korean heritage and a unique entranceway was created with unusual tilt-up panels achieving a striking look. Fast track scheduling, superior insulating values and low maintenance are just a few of the reasons the owners of Hana America chose the state-of-the-art, site cast concrete tilt-up method of construction for their new facility.
This award represents the fourth for Calamar's submission of the Hana America project. It was previously honored at Construct Canada/Concrete Tradeshow at the Metro Toronto Convention Centre in December 2006; was a National winner of the Tilt-Up Concrete Association (TCA) in February 2007 at the World of Concrete convention in Las Vegas and the winner in the architectural category at the CON/STEEL Alliance 2007 Conference that was held in Orlando, Florida in April 2007. Draftcon Calamar is the exclusive contractor for the CON/STEEL system in the Southern Ontario region.
"This award is a real testament to the outstanding aesthetics, creativity and design achieved by the CON/STEEL concrete tilt-up wall system, the architect, Emilo Raimondo of Raimondo + Associates Architects, and Calamar" said Calamar Canada Vice President and General Manager Gary Ulias. "It is evident by the awards this building has won, that it is indeed special and we are proud to have been a part of creating it. We would also like to recognize the accomplishments and excellence of the other finalists we have competed against in all these award contests that presented exceptional projects and deserve accolades as well. We again thank all our team members that were involved with and associated with the Hana project that has made it such an award winner."