CALAMAR HONORED WITH UPSTATE NEW YORK NAIOP AWARD
Fri, Nov 4th 2005 12:00 am, by system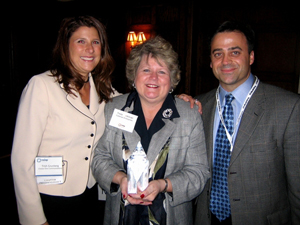 (November 4, 2005, Wheatfield, NY) Calamar, one of Western New York's largest development and construction organizations, has been awarded the National Association of Industrial and Office Properties (NAIOP) 2005 Upstate New York chapter award in the industrial category. The award was given for Calamar's development and construction of Delaware Manufacturing Industries Corporation (D.M.I.C.) which is located in The Woodlands Corporate Center, a Class A business park in Wheatfield that is developed and managed by Calamar.
NAIOP is a national association with over 9,000 members and an extensive network of 46 chapters that represents the interests of developers and owners of office, industrial and related real estate throughout North America.
The new 55,000 square foot facility is comprised of office, manufacturing and distribution space and represents D.M.I.C.'s new U.S. headquarters for its international business. They are one of the worlds largest manufacturers and distributors of fluid power components for a multitude of clientele including industrial, agricultural and refineries as well as assembly-line products for the auto and aircraft industries. D.M.I.C. was formed in 1992 and has offices in Canada and the Netherlands.
D.M.I.C. was designed and constructed utilizing the CON/STEEL site-cast concrete tilt-up system and employs the latest design technologies, structural integrity and superior energy efficiencies. "By incorporating the latest technology into our own properties and for third-party clients, we are able to deliver the highest quality project and at the same time, reduce the occupancy cost for our clients." Said Calamar President Kenneth Franasiak. "Calamar is a full service real estate organization comprised of development, construction and property management. This "one-stop shop" approach combined with the many services within those components was a key factor in D.M.I.C. selecting Calamar for this very important project, including our ability to provide financing", Franasiak said.
Some of the features of D.M.I.C. include:
55,000 s.f. facility designed using the CON/STEEL concrete tilt-up process that offers a fast track system that saves time and money and meets aggressive schedules to ensure earlier building occupancy.
The elimination of interior perimeter columns offering D.M.I.C. the maximum usable floor space. 21' clear height ceilings also maximize the usable space in the building.
The walls are 11" thick and include a sandwich insulation system that delivers an uninterrupted thermal barrier with the greatest energy savings that result in lower operating costs.
A 30' glass atrium tower entrance with metal roof paneling invites you into their expansive and impressive foyer.
The building is designed for future expansion, which includes removal of and re-use of existing panels.
D.M.I.C. is located in The Woodlands Corporate Center at Niagara Falls Boulevard and Shawnee Road in the town of Wheatfield. This 30-acre Class A Business Park was established in 2000 and has seen tremendous growth in a very short time. Predicated by the success of the park, Calamar embarked on a new expansion and developed The Woodlands Corporate Center East. This 120-acre mixed-use development will be comprised of office, industrial, manufacturing and flex facilities as well as a residential component comprised of 34 patio home and senior housing facilities. The Woodlands Corporate Center East is located just across the street The Woodlands Corporate Center and just completed construction on its first 42,000 square foot multi-tenant building.
"We are delighted to be a recipient of such a high honor, Franasiak said. We are extremely pleased to be recognized for this project by our peers and by such a prestigious organization as NAIOP. Knowing how many exceptional and worthy projects are presented, we are very proud to have D.M.I.C. rewarded by such high standards. We strive to bring the latest technology and uncompromising quality to all our projects and believe that this recognition is a reflection of those values.
An awards dinner was held at the Oak Hill Country Club in Rochester on November 3rd for all the award recipients as well as other members of the real estate and development community.