CALAMAR WINS AMERICAN CONCRETE INSTITUTE AWARD
Fri, Jul 1st 2005 09:30 am, by system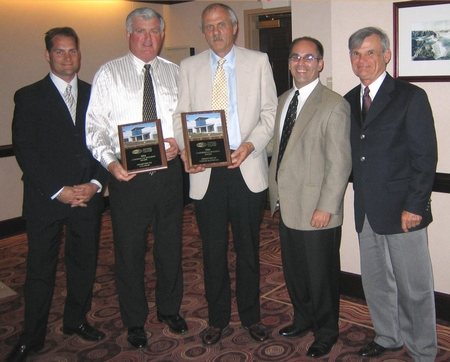 (Wheatfield, July 1, 2005) The American Concrete Institute (A.C.I.) Western New York Chapter, recently held its annual awards banquet at the Seneca Niagara Casino in Niagara Falls where Calamar was selected as the winner in the commercial building category for their submission of Delaware Manufacturing Industries Corporation (D.M.I.C.).
D.M.I.C. is located in The Woodlands Corporate Center in Wheatfield and was constructed by Calamar using the CON/STEEL concrete TILT-UP method. In this type of construction, the floor slab for the entire building is placed first and then used as the casting bed for all wall panels to be formed and poured. Once curing has been attained, the walls are then "tilted" into place. All work is done completely on-site using locally produced materials. This 55,000 S.F. building consists of office, warehouse and manufacturing space. The walls are 11" thick comprised of a 6" structural panel, 2" foam insulation and a 3" outside face panel. Calamar was selected by D.M.I.C. to construct their new facility in part, because of Calamar's ability to provide design, financing and construction services thereby creating a "one stop shop" and a seamless approach for the entire project.
D.M.I.C. is an international organization with offices and plants in Canada and the Netherlands. One of the largest manufacturers and distributors of fluid power components, this new building represents their new U.S.A. headquarters. Concrete tilt-up was selected for its many benefits including unobstructed warehouse space due to the elimination of perimeter building columns. The building is designed for future expansion whereby wall panels can be removed from their existing placement and are re-used in a new location.
"This award exemplifies the hallmark of our commitment to excellence for our customers. Our dedicated and skilled craftsmen along with the outstanding quality and benefits derived from the CON/STEEL TILT-UP system enables Calamar to truly add value to our clients", said Calamar President Kenneth M. Franasiak. "We are honored to have been selected by our peers for recognizing the value, aesthetics and use of concrete by using the CON/STEEL TILT-UP method for commercial office buildings."