Benefits of Bike Riding and Walking in the Spring for Seniors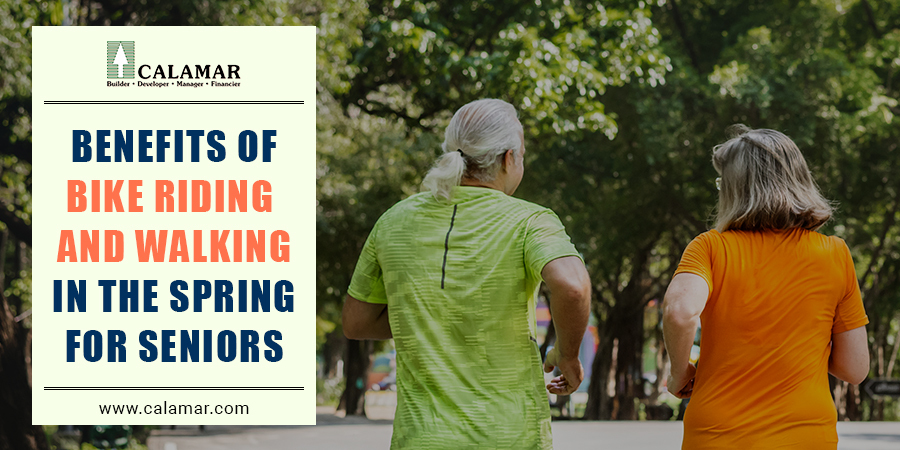 First things first; how are you doing? People, around the world, have been shocked by Covid-19; but seniors have been the worst hit. Whether you live in senior apartments Des Moines IA or in high-end retirement communities Indianola, IA; you all need to take good care of yourselves.
Speaking of taking care, it's equally as important to stay active and fit. That helps you take care of your health. Gyms have closed down in most parts of the world, and that could have affected your fitness plans. However, spring is bringing with it some warm weather; which is perfectly suited for bike riding and walking. Such activity is low-impact, hence perfectly suited for your joints. Moreover, you can still pursue these activities while practising physical distancing. Again, we are fortunate that many of the independent senior apartments in Des Moines, IA and across USA are located perfectly to offer a good walking circuit for seniors.
Here are the great benefits of walking and biking:
Low Impact: Most of you must know that jogging puts a lot of strain on your joints. As compared to that, both walking and biking can be considered a much lighter option. They have a lower impact on your joints, hence protecting you against joint pains and arthrosis. Some of you may argue that jogging perhaps burns more calories than walking. However, you can walk for much longer than you can jog. Moreover, biking can burn almost the same number of calories as running, while causing much less harm to your knees.

Build Strength and Stamina: If you haven't been active lately, you may believe that you need to be fit and in shape to start such workout. It is the other way around, though. It is reasonably simple for you to start with a slow walk around your block or light paced cycling on a flat terrain. Although a small first step, these exercises will help you build strength and stamina to pursue more active workouts.

Good Mental Health: Walking or biking through nature has been proven to be feel-good exercises. In other ways, they can be helpful in fighting symptoms of stress, anxiety, and/or depression. A walking or biking session can make you more alert, content, and happier.

Weight Control: This is a no-brainer, isn't it? By starting a new physical activity, you can reduce your weight. Walking and biking are no exception to this rule. These activities can help you stay in better shape and shed that unnecessary fat. In fact, losing extra weight can also help with alleviating joint pain.

Improves Immunity and Heart Health: Walking and biking are both very effective cardiovascular exercises. Doing these exercises over a period of time will help you improve your fitness and stay healthy.
So, whether you are a senior living in 55+ apartments Kansas City, KS or any other place; it's time you considered the alternative of biking and walking for improved health, immunity, and bone strength.