Calamar Construction Completes Holiday Inn Express & Suites
Wed, Jun 1st 2016 09:00 pm, by sczyrny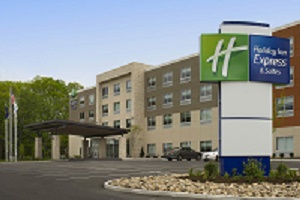 (June 1, 2016 Wheatfield, NY) Calamar, a full service real estate organization comprised of construction, development, property management, asset management and finance & investment divisions is pleased to announce that the hospitality division has completed the Holiday Inn Express & Suites project in Altoona, Pennsylvania.
The Holiday Inn Express & Suites, a flagship hotel, is a 93-room, 4-story hotel comprised of 53,000 square feet and includes an indoor swimming pool. The owners put out the welcome mat and opened the doors to the public in May 2016. Customers of the Altoona Holiday Inn Express & Suites can expect quality amenities and features in this ideally located hotel that accommodates both the leisure & business traveler.
"We are extremely pleased to have been selected as the General Contractor on this prestigious property" said John Cleary, Vice President for the hospitality division of Calamar. "We worked very closely with the owners to ensure a timely completion of the construction with the utmost care given to quality throughout. This flagship hotel is in an ideal location to Altoona attractions and businesses and provides excellent conveniences and amenities to accommodate each guest ensuring a comfortable stay".
About Calamar
Calamar is a full-service real estate firm comprised of construction, development, management and investment divisions for commercial and large-scale residential properties. Calamar is headquartered in Western New York with offices and investments throughout North America. For more information, contact Kathy Griffiths at 716.693.0006, ext. 11 or kgriffiths@calamar.com.