Concrete Tilt-Up
Calamar is a pioneer in Western New York and Southern Ontario with innovative construction technologies such as the site-cast concrete TILT-UP building method of construction (Watch the Video below). Calamar also provides this client-focused approach of utilizing innovative construction solutions in the mid-west through its Omaha, Nebraska office. This method of construction involves the casting and insulating of concrete panels directly on top of the building floor slab, then raising them vertically to create the exterior walls. Using the concrete TILT-UP System enables fast-track construction that saves considerable time versus traditional construction schedules. This translates into tremendous cost-savings for the project. Site-cast concrete TILT-UP construction is extremely flexible and desirable from a design standpoint, and offers many advantages and benefits over other methods of construction.
Some highlights include:
"Green" Building Design: Concrete has many natural LEED properties making it an ideal sustainable product.
Thermal Efficiencies: Concrete integrates a high amount of thermal mass into the structure on its own. Combined with sandwich panel insulation, tilt-up provides a significant increase in energy value and moisture protection. This ultimately reduces the operating costs of the building.
Economy: Tilt-up maximizes your operating and investment costs.
Floor Utilization: Column-free perimeter walls allow for unobstructed rack spacing and permits unrestricted door and window locations.
Design Freedom: Each tilt-up building is designed to your exact needs both in function and appearance. The design possibilities are limitless.
Schedule: Fast-track scheduling provides savings in labor, material, and time.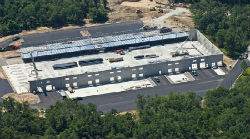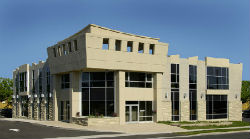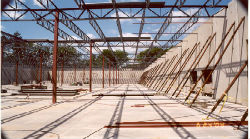 Site-cast concrete TILT-UP building construction is an example of Calamars client-focused approach to utilizing state-of-the-art technology to expeditiously deliver high-quality, and budget conscious innovative projects for its clients. Calamar is proud to be recipients of both national and local awards for our concrete tilt-up construction projects.
Video courtesy of Tilt-Up Concrete Assocation. Visit www.tilt-up.org for more of their videos.